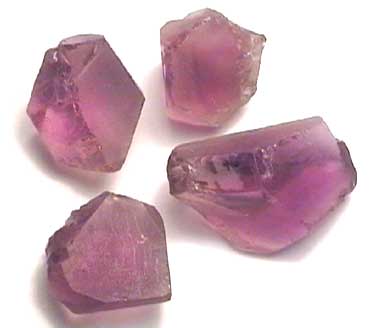 In popular belief, the Amethyst offers protection against drunkenness - for the Greek word 'amethystos' means 'not intoxicated' in translation.
The amethyst has its hardness (7), its moderate refraction and its weight in common with the other quartzes, but the crystal structure is different, and it is most unconventional. The construction is stratified, as a result of which areas and lamellae of varying colour intensity often come about.
Some Amethysts are pale almost to colourlessness in daylight. The reason for this has not yet been discovered, but it is possible to re-colour them by means of radium radiation. The fact that these stones can lose their colour makes it obvious that Amethyst jewellery should not be worn while sunbathing, in a solarium or in a discotheque with black light. Sudden changes of temperature can also be harmful to the stone
The deposits with the greatest economic significance are in various states in southern Brazil and in neighbouring Uruguay. The third major export country is Madagascar. However, this gemstone is spread all over the world. Good specimens were found in Aztec graves, though the deposits from which they were extracted are no longer known today. On the Canadian side of Lake Superior in North America, there is a place named Amethyst Harbor. The violet quartz is found there in ample quantities, though rarely in gemstone quality. The fame of Idar-Oberstein, the German gemstone centre, is based on domestic amethyst finds. In earlier times, raw material was delivered there from the Zillertal Alps. When these nearby deposits ceased to yield, the old cutters' tradition was able to be preserved thanks to supplies organised by German emigrés in South America. Russian amethysts, which were mainly mined in winter in the Urals, were once famous for their particularly beautiful colour, which shone magnificently even in artificial light. In Tibet there were amethyst rosaries, for there the gemstone was dedicated to Buddha and was said to promote clarity of mind. In Sri Lanka, stones which have rolled down on their own are found in debris.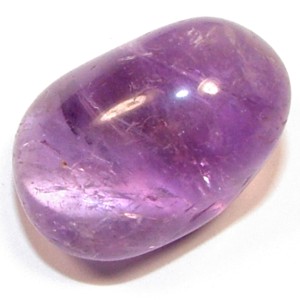 The South American deposits in particular, which were not discovered until the nineteenth century, brought down the price of the violet gemstone. The Amethyst bracelet of Queen Charlotte of England, which was so famous at the beginning of the 18th century, its value being estimated at 2000 pounds sterling at that time, was apparently worth only 100 pounds 200 years later. However, the price has a close relationship with the quality, and the quality varies immensely. Most of the material from Brazil is light-coloured, a tender purple. In Madagascar, it is generally red or violet hues which are found. Uruguay supplies the most beautiful and the deepest colour, but it is mostly blemished. Thus immaculate stones of the finest violet still fetch carat prices of well over a hundred Euros. Mounted with diamond braid trimming, as has been the custom for some 100 years, enchanting pieces of jewellery are thus created. No wonder that people find it worth going to the trouble of producing imitations and synthetics.
In ancient times, Amethyst was already being engraved and cut into sculptured forms, witness the bust of Trajan which Napoleon captured in Berlin. Amethyst quartz, banded with whitish layers, is particularly good to work with, though it is only ever either translucent or opaque or somewhere in between. In earlier times, people liked to drink wine from Amethyst cups, which brings us back to the stone's protective function against alcoholism. According to the ancient Greek saga, Diana turned a nymph whom Bacchus loved into an Amethyst; hence the term Bacchus stone
GAEA AMETHYST EARRINGS & NECKLACES FOR SALE
We have a range of beautiful, faceted gemstones, jewellery (necklaces, bracelets, earrings, pendulums and pendants etc) and handmade crafts for sale within our shop.
Some examples of Amethyst Earrings and Necklaces that we have made are shown below. Please click on the "Online Shop" button below to review.