House of Gaea offer a wide range of faceted gemstones to suit all occasions and all budgets.
Our premium gemstones are faceted in South Yorkshire, UK under strict quality control standards and using thevery highest quality faceting equipment, dops and setting jigs/fixtures.
Only by working with the stone, understanding the behaviour of the rutilations and the areas of constant colour, can the gemstone be shaped into something that resembles a work of art.
Cut Gemstones
Quality gemstone manufacture requires skill, patience, perseverance and attention to the finest detail.
Creating precision, matching facets is a process that cannot be rushed, as an over-cut facet or a wrong facet angle can result in the gemstone being scrapped or significantly reworked, loosing size and carat weight.
GAEA GEMSTONES FOR SALE
We have a range of beautiful, stunning and very very special/rare faceted gemstones and pendants/pendulums for sale within our shop. Some examples of faceted gemstones and pendants we have made are shown below. Please click on the "Online Shop" button below to review.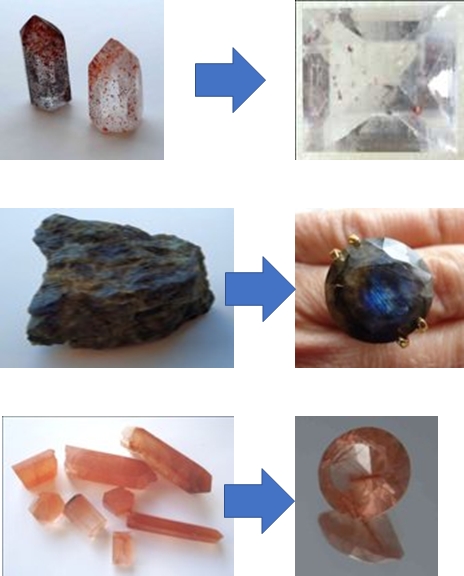 BRASS DOPS FOR SALE
For people using a Facetron lapidary machine, we also sell brass dops (as shown above).
8mm shank, Brass Dop with a 10-15mm diameter gemstone cup shaped holder) are £25.00 each plus £5.00 Postage. Click our Paypal Checkout button below to order one.